Wide-field microscopy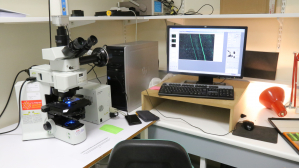 BioPIC is composed with 5 wide-field microscopes (Olympus, Zeiss) to do brightfield or fluorescence observation. Each of these microscopes included CMOS color camera.
Confocal microscopy
The principle of confocal microscopy is about observation of thick samples virtual section or entire cells. These virtual sections can be compile to obtain 3D image.
The platform is equipped with a spectral confocal microscope which allows for example, to study and precisely characterize marine model auto-fluorescence.
Microscope: LEICA SP8-X inverted, with supercontinuum laser and 405nm diode (until 8 rays simultaneously) fitted with 6 detectors: 2 Hybrids, 3 PMT & 1 PMT Trans.