BioPIC
The BioPIC platform (Biology Platform of Imaging and flow Cytometry) aims to offer high-tech state-of-the-art tools for the study and observation of aquatic ecosystems and their organisms on the very shores of the western Mediterranean.
Three technical platforms are available: photonic and electronic microscopy and flow cytometry. These platforms are complementary and enable the ecosystem to be studied at its different scales: sub-cellular, cellular, community and global.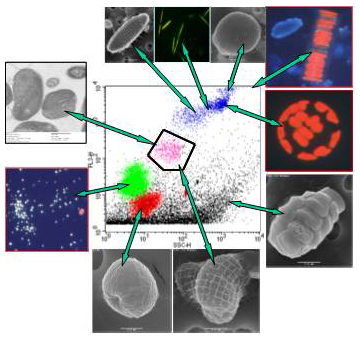 Technics & skills
Flow cytometry and solid phase scanning cytometry: Analyses & cell-sorting
Wide field & Confocal microscopy: supercontinuum laser + 405 nm spectral imaging
Transmission electron microscope: Ultrastructure, immunocytochemistry, microorganisms cryopreparation
Objectives
Be involved in national & international programs connected to French, European & International laboratories.
Increase technological skills of the Observatory.
Analyse, confirm & make available for the National community the data from picoplankton sampling of SOMLIT national network (more than 10 coastal stations).
Participate & be involved in the local (ex. ORI) & national (ex. SOMLIT, GDR IMABIO) networks.
Access
Every new user who wish to use an instrument have to contact BioPIC staff first.
They should receive a staff training and sign the "user charte" before access. Most of the time, they will get lonely access to the instrument after these steps and with agree of the BioPIC staff.