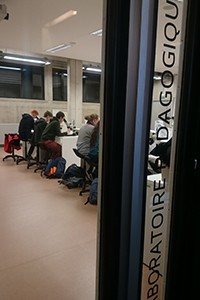 The Oceanological Observatory of Banyuls-sur-Mer is strongly involved in actions to transfer scientific knowledge to the general public and schoolchildren through a series of conferences on the various themes of "Knowledge Wednesdays" and its participation in national or local events (Fête de la science, Journées Européennes du Patrimoine, etc.), but also through the Biodiversarium, a scientific mediation centre.
The Biodiversarium consists in two complementary sites, the Mediterranean Aquarium located at the port of Banyuls and the Mediterranean Garden located at Mas Reig, 3 km from the Aquarium. These two sites are combined to present the terrestrial and marine biodiversity of the Pyrénées-Orientales through a scientific vision adapted to the greatest number of people.
At the same time a centre of scientific culture, an eco-museum, an aquarium and an educational garden, the Biodiversarium, as a scientific mediation service of the Oceanological Observatory of Banyuls-sur-Mer, is a place of exchange between the public,schoolchildren and the world of research.
More information: www.biodiversarium.fr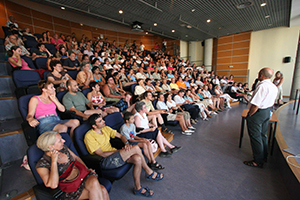 The Association of Friends of the Arago Laboratory organizes a series of monthly scientific and socio-cultural conferences. These conferences cover not only research topics developed at the Observatory, but also scientific themes more generally related to marine biology, marine ecology or oceanography.
This exhibition reflects the Observatory's mission in favor of mediation scientifique as part of a program of events for the general public entitled L'Art'Cherche.
Pascal Romans, curator of the Biodiversarium and head of the Aquariology Department of the Banyuls Oceanological Observatory, explains in short interviews, the particularities of the coastline of the Pyrénées-Orientales and the marine fauna and flora that it hosts.
These popularized chronicles of 2 to 3 minutes are broadcasted on France Bleu Roussillon every Saturday morning between 7:50 and 8 am.
Science Festival
Every year, in october, the Oceanological Observatory of Banyuls-sur-Mer participates in the Science Festival, a national event that allows the public and schools to visit research laboratories. In this context, the OOB opens its doors for a whole day; conferences, guided tours and educational workshops are organised to present to the public the diversity of activities carried out there on site or during campaigns at sea.