Publication of the book "Handbook of Marine Model Organisms in Experimental Biology"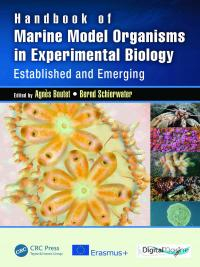 A handbook on the use of marine organisms in biological research has just been published by CRC press. This 500-page book contains 24 chapters dedicated to a wide range of models such as marine bacteria, cephalochordates, brown algae, crustaceans, cartilaginous fish, annelids, tunicates, echinoderms or unicellulars close to metazoans.
The writing of this book, under the coordination of the editors Agnès Boutet & Bernd Schierwater, constitutes a federative act of great magnitude since it required the participation of multiple scientists from the marine stations of SU (Banyuls, Roscoff, Villefranche) and from many other institutes around the world (Germany, Australia, Crete, Denmark, Spain, Israel, Italy, Japan, Switzerland, USA) A total of 79 authors have concentrated their efforts to synthesize with great rigor the scientific literature on their favorite organism.
Thanks to the support of the Erasmus Agency (DigitalMarine strategic partnership project (2018-2021)), the book is in Open Access.