EMBRC-ERIC is a pan-European research infrastructure focused on research on biology and marine ecology. Through services offered to a broad scientific community, EMBRC aims to foster research to help answering fundamental questions about the health of ocean ecosystems in a changing environment.
EMBRC also aims to strengthen our investigative capacity through the development of new technologies, support major life science discoveries through the use of marine biological models, and improve marine observing devices. EMBRC-ERIC must be a driving force in the development of blue biotechnologies, supporting both basic research activities and the development of applied research to promote the establishment of sustainable solutions in the food, health and the environment. EMBRC is positioning itself as a world-leading research infrastructure addressing major societal challenges through advanced research in biology and marine ecology. The headquarters of EMBRC are in Paris and besides the 3 French stations of Banyuls-sur-Mer, Villefranche-sur-Mer and Roscoff, it includes 19 marine stations in 9 European countries.
More information: www.embrc.eu
EMBRC France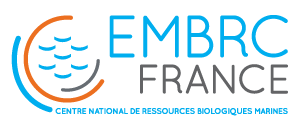 EMBRC-France is the French component of the ERIC-EMBRC and is divided between three marine stations sharing Sorbonne University and the CNRS as guardianship. EMBRC-France operates as an integrated national infrastructure, with a single point of entry for access to state-of-the-art analytical platforms, marine organisms and national expertise. Through the facilities of the Roscoff Biological Station, the Oceanological Observatory of Banyuls-sur-Mer and the Oceanological Observatory of Villefranche-sur-Mer, EMBRC-France allows a access to Atlantic and Mediterranean ecosystems.
Biological resources can be provided onsite or remotely from a range of marine models grown or collected from wild stocks. Accommodation and catering for visiting scientists, conferences, workshops and summer schools are also available.
More information: www.embrc-france.fr