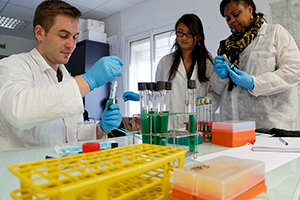 The OOB offers courses in 4 Masters of Sorbonne Université. Some of these M.Sc. are partners of European and international programs.
Marine Sciences
This Master is partner of the European program IMBRSea (International Master in Marine Biological Resources), and courses are taught in English. It includes also Summer schools.
More informations on the master's website.
Year 1
Year 2
Biodiversity, Ecology and Evolution (BEE)
Program in Systematics and Paleontology - Year 1
Phylogeny and Applications (ADAPHYL, MU4BEB22)
Program in Ecophysiology and Ecotoxicology - Year 2
Marine Biotests and Bioresources (B2M2, 5UT09)
Integrative Biology and Physiology (BIP)
Program in Marine Biology and Bioresources (BBMA) - Year 2
This program includes an International Master Program in Biology of Marine Organisms (PIM BOM).
Molecular and Cell Biology (BMC)
Year 2
Parcours-type Microbiology (Microbio)
Program of Master 2 "

Microbiologie Environnement Santé

" (MES)