The Incubator, physically, has 3 offices, 3 laboratories (1 of which is L2 compliant) and a meeting room.
Technical platforms
Laboratory means equipment. This equipment is usually very expensive. Access to the technical platforms is therefore a particularly attractive service in a "pay per use" relationship that is much more economical for young companies.
Animation
The added value of the incubator is centred on support. An animation is planned to train and inform startups about their new job. This is made possible by the free intervention of consular or professional bodies thanks to the network created within the framework of the economic development manager's activities.
The Environment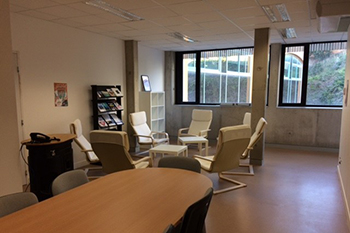 It is important that the environment in which the startup lives is rewarding. The entrance through the aquarium offers a top-of-the-range brand image from this point of view.
The aquarium staff will welcome the visitors when they arrive.
A signage lists the companies hosted, from the reception.
A relaxation area offers a place for exchanges but also to welcome visitors.
Technical means
Companies have access to telephony, Internet, reprography, and meeting rooms.
The access or subcontracting of technical operations is possible, from means to sea to the technical platforms.
Confidentiality
This is crucial for start-ups and an essential criterion for investors. Access is controlled by an individualized badge. The computer network is secure.